Springtails behave in a certain way that make them one of the most annoying and frustrating pests to control. There are many reasons why. First, I will list why they can be so frustrating. Second, I'll list some springtail facts so you can better understand this pest and last, I'll list what works best if you wish to control a local problem.
Why are springtail infestations so frustrating? Here's the short list…
When springtails start to appear in your home, you're not seeing the "real" problem. Local treatments inside the home won't stop the invasion and if you've been spraying inside where you see them, you know exactly what I mean. The reason for this is simple; springtails can easily outpace the spray. True, they're easy to kill. But even the strongest residual will take 2-3 days to kill an insect after its dry. That means new springtails entering the home will be seen for several days and since you can easily get hundreds entering the home daily, the net impact of the spray will barely be detectable. For this reason its important to treat when they come back and for many homeowners, this will mean treating every 1-2 days (unless you stop them from entering!).
Springtails can appear on freshly treated surfaces and you can't imagine how they can still be alive after all the spray you just applied!
Springtails are a pest most service companies aren't prepared to handle (they're not prepared to apply enough chemical to get control nor do they want to keep coming back to your home very few days). Consequently their treatments won't stop the problem and many times it will appear to make it worse. This happens because many companies use "repellent" sprays which can flush out colonized springtails and since this can take hours to happen, they only become visible long after the tech has left. Additionally, there are many companies who will no longer even treat for this pest.
Springtails can invade by the thousands and they can do it quickly. Your home can become a mess in a matter of minutes once they emerge and get into their "migratory" mode of action. And for some reason it seems as though this happens at the worse of times (like when guests are visiting).
Springtails are largely misunderstood so it's hard to get good answers when it comes to solving a local problem. This just adds to the frustration anyone with a problem can feel.
Springtails will many times have established "paths" or what we call "exodus trails". These trails will be used over and over. Many times one house on the block or one building in a series can be the "end of the trail" so the net effect is a channeling of springtails from an acre or more to just one yard or home. Suffice to say this can be very frustrating to that specific land owner.
Other springtail facts..
Springtails live in the ground feeding on organic matter like dead plants, small microbes and anything recyclable. Like termites, they're very important to any local ecosystem. Essentially "recyclers", they can live anywhere and appear on most all land around the world. For the most part they live their lives in peace but when their numbers hit critical mass, they're effectively forced to relocate and this is when they will conflict with man.
Springtails are the food of many insects. If you allow springtails to thrive on your property, they will most assuredly attract other pests like beetles, centipedes, roaches, ants, crickets and just about any other insect.
Springtail problems start in dirt. They tend to live in topsoil where it's moist and damp. They love flower beds, lawns where grass clippings are recycled and left as mulch, up under pine bark, pine straw and most any wood chip bed as well as under rocks, slabs and any moist ground where it's both dark, shady and dank. Weed barriers are essentially "springtail incubators" and should not be laid down within 10 feet of the home or else you'll be inviting springtails to infest your house.
Homes with basements usually have the top soil removed prior to the concrete being poured which can help keep them out of the home for a year or so after it's built. Slab homes have their concrete poured right on top of the active springtails so within months of the home being built it will succumb to the springtail migrations and become infested. This is why so many new homeowners experience invasions and wonder how this can be happening to their new home. The answer is simple: they were present around the home when construction began.
Springtails migrate when populations grow large or when they are attempting to move away from extreme heat, cold or moisture. This is when you start seeing them inside the home, on the homes foundation, exterior siding or up on the top of the ground. In fact, they will commonly migrate out of the ground in the winter during a warm period when the snow melts. At this time the saturated soil will cause them to rise up and out of the water where they'll appear on top of the snow. This can happen any time of year but in general when the population is significantly large enough to support the migration.
Springtails will die in a few days once exposed to most any air found in the home and cannot live out in the open for any significant length of time.
Springtails do not "nest" in the home, furniture, clothing, people, pets, rugs or anywhere out in the open where you see them. But they will definitely form "pockets". These pockets can harbor hundreds but without the microbial food they require and the moisture they need, the inhabitants of these pockets will die in a few days. The problem is they'll usually be replaced by fresh springtails faster than they die so the net effect is a seemingly never ending local problem that seems to be growing in size. Again, all the springtails you see have left the confines of the ground nest seeking a new place to live and simply made a wrong turn. If left alone, they'll die. But if these pockets are not treated and more importantly, the ground around the home isn't treated, you'll continue to see them on a daily basis. Granted this might not happen much when your region is in a dry spell but when moisture abounds, so too will the springtails.
There is no pesticide strong enough to stop them once they start invading. In other words, treating inside the home on top of baseboards, foundation walls, around door frames and windows won't stop them from getting inside. No doubt these treatments will help by killing live active springtails present. But once this treatment dries, it looses its ability to kill quickly so new springtails coming into the home just hours after you treat will be able to live and thrive for several days before succumbing to the treating. So if you want stop them from entering the home, you'll need to treat the outside and in most cases this area will be both large and will require a lot of applications over a 1-2 month period of time.
What will NOT work on springtail problems.
Simply spraying the inside of the home. This is a complete waste and though you should definitely be doing some treating inside, this action alone will not solve the problem.
Spraying furniture, rugs, walls, attics, basements or crawl spaces will not prevent more springtails from moving back to these locations.
Washing your clothes, bedding, floors or countertops as a method of control. Wash these things to get rid of active springtails but understand they'll get infested again within a few days if you don't start treating as we explain.
Pouring bleach down the drain for springtails in the sink. This won't do much since the developing and nesting stages are lodged in the slimy organic matter accumulating on the pipe walls which must be removed using a special enzyme (listed below). Bleach does not remove this slime so it won't help your cause.
So how do you control springtails?
First and foremost, identify the moist areas around your home. Springtails love moist soil and will thrive in irrigated, watered lawns. When such areas develop in the yard, the population of springtails around your home will increase. When such areas dry up and loose their moisture, so too will the over abundance of springtails. Sometimes the moisture comes from excessive rainfall which you cannot control. Other times it comes from a neighbors sprinkler system which you probably still can't control. But your own watering can be controlled and if you aren't willing to reduce it, you'll need to treat the areas with some MAXXTHOR G to keep it springtail free. An ongoing treatment regime of applying 1-2 lbs of granules per side of the home covering a 10 foot wide area will keep your soil springtail free. Start doing this every spring and if you stay the course and treat once a month, you'll keep the local numbers in check which will many times keep them out of the home.
Packed in easy to handle 12.5 lb jugs, just sprinkle them out around the home.
Focus on flower beds, around vegetable gardens, pine straw mulch piles, compost piles, potted plants, wood chip beds, grass clippings, leaves, weed barriers and just about anything that covers the ground around the home. All of these areas will serve as a sort of "springtail oven" that will grow populations quickly if left untreated.
When treating outside, don't think small; think big. In most cases, it's just about impossible to narrow down just where the springtails are coming from so don't try. Instead, use the "shotgun" approach and treat as much of the land surrounding the house as you can. We recommend at least a 10 foot band coming out away from the foundation but doing more can make the overall treatment even more effective.
After applying the Maxxthor SG, spray over the top with CYONARA RTS. This will get the granules "activated" as well as knock out all foraging springtails. Cyonara is odorless and easy to use. One quart will cover up to 1/2 acre so expect to use 1/4 to 1/2 jug per treatment. Use it on the homes siding too since springtail "pockets" will form up under siding, around gutters, etc. Treat at least twice a month when you see activity and more frequently if you see them coming back in 7 days or less. But once they're gone, spraying once a month when you apply the granules will keep them away for good.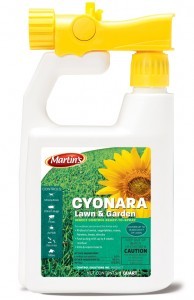 Realize that any cement poured around the home and up against the foundation like a patio, driveway, stoop, garage or shed can all serve as a springtail haven. These slabs cover dirt, hold moisture, provide shade and when connected to the home present a direct way for migrating springtails to get inside to living areas. In some cases these areas will need to be treated as explained in our SPRINGTAIL CONTROL ARTICLE. This will be necessary to stop them from getting inside because again, if the population explodes so much and they start migrating, there is no chemical we have that will stop them from getting inside. That means you'll be subject to the invasion if you don't treat under these cement slabs.
Try to remove as much of the organic matter, ground cover and other springtail "enablers" around the home and within this 10 foot band of soil closest to the homes foundation. Removing this material will indirectly reduce the moisture level and food supplies which in turn will directly reduce the amount of springtails that can survive. Alternatively you can simply apply the Maxxthor SG and Cyonara on the monthly schedule listed above and the chemicals will definitely keep their numbers in check.
Fix all leaks on the home related to a bad water pipe, garden hose, a poorly draining air conditioning unit or a leaky roof. Such areas can become secondary pocket nests for migrating springtails that find their way onto or inside the home and if you don't stop the moisture, you won't stop the invasion.
How to treat springtails coming up in the sink?
Springtails will thrive in any sewer line or septic tank system connected to the home. Once these areas get infested, its just a matter of time before they forage through the pipes and end up inside the home. You'll know this is happening when you start seeing springtails in the sink.
Typically drain line cleaners like Draino or bleach won't stop this invasion. Springtails will move into the slimy buildup of organic matter common to any drain and just a thin layer will keep them protected for most cleaners.  But SURVIVORS poured down the drain will "eat" away this slime and thus remove this location as a nest site. Use 3-4 oz down any drain they're using and treat once a week during the spring and summer months. Do the application late at night, just before you retire, so it can sit for several hours undisturbed.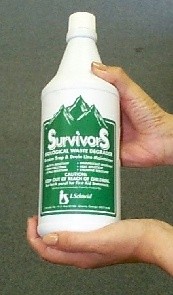 Since survivors won't actually kill any active springtails, you'll need to spray down the drain with PT-CYKICK AEROSOL. This odorless aerosol is fast working on springtails and it only takes a 3-5 second blast down any drain with activity. Cykick will penetrate most slimy buildups and kill all insects in its path. Use as needed; 1-2 a week when first treating is recommended and once the problem is gone, once a week should be enough to keep them under control.

What about springtails nesting up under my homes siding?
If your home has cedar shakes, vinyl or aluminum siding, there is a good chance you have springtails pocketing up under and behind the siding. Other exteriors can harbor springtails as can any gutter that doesn't drain completely. For this reason its not uncommon to find springtails nesting along the roofline and making their way inside the home onto the second level.
Spraying the homes siding can help reduce these pockets but vinyl or aluminum siding will need to be dusted to effectively eliminate this key nest site. DELTAMETHRIN DUST puffed under every row of siding will last 6-12 months per treatment and once applied, will both kill on contact and keep them away for the entire season. Use 1 lb for every 1,000 sq/ft of siding; most homes will need 2-3 lbs by the time you treat along gutters, rooflines and all the cracks commonly found on any home.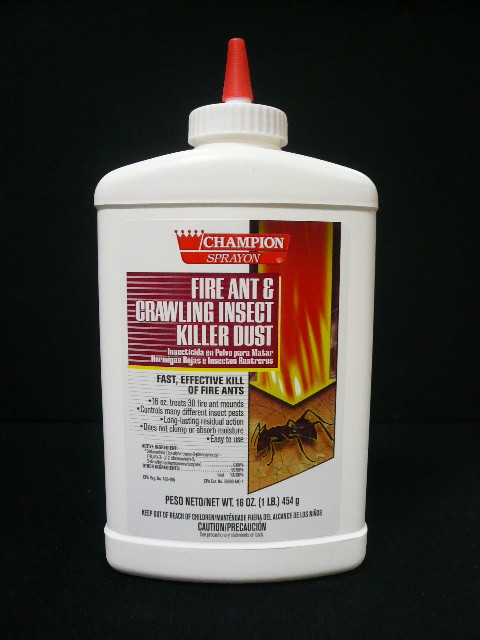 Use a good HAND DUSTER to make the application. These dusters will blow the dust a good 4-6 feet in an open void and when used for treating under siding, you'll get  good 2-3 feet of coverage per spot you dust.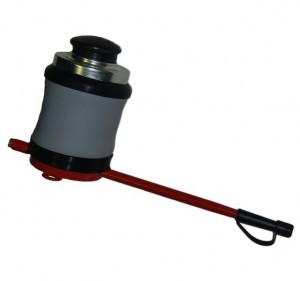 Be sure to treat as many rows of the siding as possible and if you're finding springtails on the second level of the home, you should treat the entire side. Use a DUSTICK to help with the application; it will enable you to treat up to a 30 foot height or more without having to climb a ladder.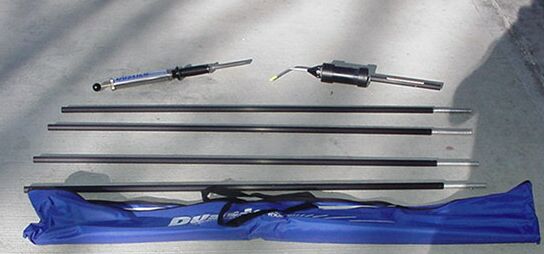 Lastly, be patient! Springtails are very much like the herpes virus. Most people don't know they have herpes until they have an outbreak. And though there are medications that can help to control outbreaks, these treatments will only help to minimize the symptom because there is no cure. The same is true for springtails.
These guys exist deep down in the ground around all homes and structures and when conditions are right, they are able to reproduce to such levels that they are forced to migrate out into the open (like a herpes sore).
Treatments for springtails (Cyonara, Maxxthor SG, CyKick, etc.) will help to minimize the symptom by allowing you create a "springtail free zone" around home. But they'll still be outside, omnipresent and lurking.
In summary, if you currently have springtails invading, there is a really only one thing you need to do and that is to focus your attention on the outside of the home where they are likely breeding. If you treat all areas you stand the best chance of getting rid of them quickly. If you spot treat, there is a greater chance the problem will be ongoing since it's so easy to miss a spot or too.
And for a more complete reading on this pest, read our SPRINGTAIL CONTROL article. It gets into more details so you can better understand this pest. Lastly, if you still have questions, give us a call toll free at 1-800-877-7290 and one of our technical reps should be able to further assist.